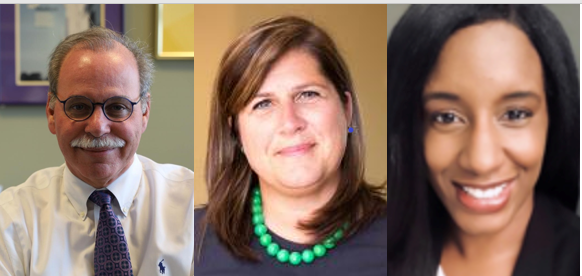 edHEALTH Adds Three Board Members: Bentley University, Emerson College, KIPP Massachusetts Charter represented
Dec 12, 2022
(December 12, 2022) - edHEALTH announced today three new members were elected to the Educators Health LLC Board of Managers and the Educators Health Insurance Exchange Subscribers Advisory Committee. Joining the boards are Kimberly Aliotte, Senior Advisor for Human Resources and Talent at KIPP Massachusetts; Paul Dworkis, Vice President for Administration and Finance at Emerson College; and Kristen Jadul, Executive Director, Human Resources at Bentley University.
"We are very fortunate that edHEALTH continues to experience thoughtful growth. As such, it is our goal to also grow our board to reflect the expanded membership. This fall, we welcome three new board members, each of whom brings a unique background. Their experiences will support edHEALTH's strategic direction and goals and provide fiduciary oversight to edHEALTH LLC and edHEALTH Captive," says Steve Hannabury, Chair of both the edHEALTH LLC Board of Managers and edHEALTH Captive Subscribers Advisory Committee.

Kimberly Aliotte is the first board member to represent edHEALTH's charter schools. She has a great deal of experience in helping to develop and support youth and communities and is strongly committed to addressing gaps in healthcare needs among educators and the families charter schools serve. Paul Dworkis is an experienced financial leader who has held strategic leadership positions in higher education and, before that, within news and media organizations, including as Chief Financial Officer and Senior Vice President for Newsweek. Kristen Jadul, with extensive experience in total rewards, has worked in the Human Resources field for over twenty years. Prior to joining Bentley University, she held various roles in the software and biotechnology industries.
"I am so looking forward to the addition of Kimberly, Kristen, and Paul to our boards. They've already brought such value to edHEALTH through their roles at their respective edHEALTH schools. As we solidify our strategic plans and continue to address the challenges of employee healthcare, their unique experiences will be especially beneficial," notes A. Tracy Hassett, President and CEO of edHEALTH.
About edHEALTH: Established in 2013, edHEALTH is the proven employee healthcare solution for higher education and secondary schools. The organization provides savings through group purchasing, ownership, and data-driven innovative programs. edHEALTH offers the strength of collaboration with its member institutions and best-in-class business partners.