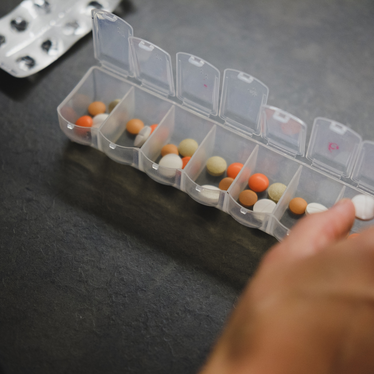 On the Rx Front: More breakthroughs, continued increases in prices Understanding the big picture, and how we all play a role in trying to control costs.
Mar 29, 2022
Healthcare experts, employers, and consumers alike recognize the significance prescription drugs have in today's world. Thanks to clinical innovations in the pharmaceutical world, especially when it comes to specialty medications, more people can better manage their health conditions with new medications on the market. In recent years breakthroughs have had a positive impact on people living with chronic medical conditions such as diabetes and other complex medical conditions e.g., rheumatoid arthritis, Crohn's disease, cancer, and Alzheimer's disease.
In the fall of 2021, a Kaiser Family Foundation tracking poll noted that six in 10 adults take at least one prescription, with a quarter of them taking four or more regularly. These prescriptions, while life-changing, also come at a cost—for both the employee and the employer.
Since prescription drugs are such an integral part of healthcare, we'll regularly report on different prescription drug-related topics throughout the year. Today, we review:
Recent drug cost increases
Specialty drugs: their costs, usage, and a positive perspective
Resources to help edHEALTH members' covered faculty, staff, and their families make the most out of their prescription drug benefits, like the variable copay solution
What 2022 and beyond looks like for prescription drugs – costs and more
Year after year, findings show that prescription drug costs continue to increase. Just a couple of years ago, prices were increasing more than the rate of inflation. This year, according to GoodRx, the increases continue, with 810 medications raising their prices by an average of 5% in January 2022. Most of them are brand-name drugs, with nearly 25% of them being specialty drugs.
Specialty drugs on the rise: usage and cost
Specialty drugs are, at the simplest definition, high-cost prescription medications used to treat complex, chronic conditions like cancer, rheumatoid arthritis, and multiple sclerosis. And they're on the rise. That said, within the industry, there is no clear definition for specialty drugs. This leaves room for manufacturers to label new medications as specialty drugs and charge more.
According to the American Pharmacists Association, common characteristics of specialty drugs include needing special storage or handling, requiring patient support and/or counseling to get started, being available through limited distribution, and being very expensive. To control both cost and appropriate usage, patients now often need to purchase these medications through certain pharmacy networks or specialty pharmacies.
You may be wondering why such a rise in specialty drug usage and cost.
There have been many clinical breakthroughs in developing medications that are far superior to traditional therapies for very complex and often debilitating diseases and offer patients significantly improved outcomes and quality of life. They can help change the course of the disease. Many national and local reports indicate that specialty medications are driving more than half of overall drug spending. Finding a balance between managing costs without restricting access due to formulary restrictions or costs is a challenge for all.
Defining biologics
Many common specialty drugs, like Humira and Enbrel, are in this drug classification.

GoodRx defines biologics

as powerful medications that may be made of tiny components like sugars, proteins, or DNA or can be whole cells or tissues. These drugs also come from all sorts of living sources — mammals, birds, insects, plants, and even bacteria. Their complexity is what makes biologics such expensive drugs.

The positive side of these specialty drugs
According to Pharmacy Times, specialty pharmacy remains the largest opportunity for health systems and their patients over the next five years: driving improved outcomes, a better patient experience, and more than $100 billion in incremental economics. The specialty market is projected to continue growing by 8% per year driven by new specialty products coming to market, continued expansion of the specialty population, and drug price increases through 2025.
Despite real fears of continued price increases, having newer targeted medications for these complex conditions means more people may be able to manage their health conditions more effectively. And by living healthier lives while coping with serious health conditions, these patients may be able to avoid additional medical care or hospitalizations.
With more breakthroughs on the horizon, it's time for all parties to come together to find new ways to manage the costs while not limiting access to specialty drugs.
What can we do today to help better manage pharmacy costs?
There are a variety of programs or resources in place for people taking medications to make the most out of their prescription drug coverage. For example, three common ways to save include:
Saving money with up to three-month supplies of maintenance medications – often by mail order but sometimes available at participating retail pharmacies
Talking to their providers about prescriptions for generics instead of brand-name drugs
Getting specialty drugs through a specific specialty pharmacy as determined by the pharmacy benefits manager
Through edHEALTH, schools have access to unique programs that help employees and their covered family members make the most of their prescription drug coverage while also saving on pharmacy costs. One example of these programs, which most of our schools and their covered faculty, staff, and families benefit from, is the cost-saving Variable Copay Solution for specialty drugs. Our pharmacy partner sends a letter to covered employees taking eligible specialty medications when there are manufacturer coupons or copay cards available. Current edHEALTH member-owner schools, be sure to talk to your pharmacy account executive to ensure you and your covered faculty, staff, and covered family members are making the most out of savings available from the Variable Card Solution.
What's next? edHEALTH regularly reviews our schools' pharmacy utilization data and partners with both our pharmacy benefits manager and member schools to find ways to manage Rx rising costs. We look forward to sharing more information related to prescription drug coverage later this year.