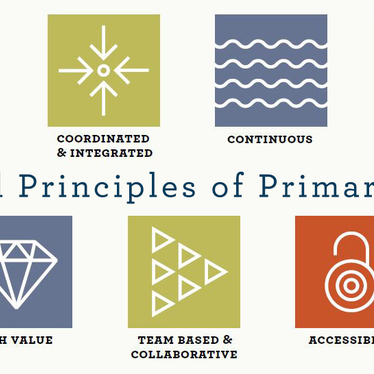 What is Advanced Primary Care and why is it an Important Healthcare Policy
Dec 31, 2021
BY CYNTHIA MCGRATH | November 15, 2021
Primary care practices, which are crucial in providing coordinated, efficient, and high-value care, were severely impacted by the pandemic. Primary Care Providers (PCPs) closed or limited their practices to ensure capacity for COVID-19 patients and patients stayed away to avoid potential exposure. Twenty to forty percent of the PCP practices surveyed in June 2020 by the Mass Health Policy Commission and Massachusetts Chapter of the American College of Physicians stated that they were considering consolidating, selling, or closing their practices.
Underinvestment and a fee-for-service reimbursement arrangement that pays providers based on the number of services provided decimated PCP finances that no longer had a steady flow of income from in-person visits and tests. This method of paying PCPs is misaligned with the benefits of primary care:
Total-person health (physical, mental, spiritual, financial, family/home, social/cultural)
Team-based care
Care coordination and integration
Interoperable health IT infrastructure
Policy leaders are touting the benefits of supporting a strong PCP foundation through a new method of investment and payment that will support practices on an ongoing basis. When PCPs are placed at the center of healthcare coordination, patients and purchasers benefit:
Early detection and treatment
Coordinated care for chronic and complex conditions
Fewer visits to expensive specialists and emergency rooms
According to the National Alliance of Healthcare Purchaser Coalitions, healthcare systems with a strong primary care foundation report:
Better outcomes

Adults with a primary care doctor have 19% lower odds of premature death than those who see only specialists (Commonwealth Fund).

Higher patient satisfaction
Lower costs
The National Alliance developed an action brief for employers to drive value through Advanced Primary Care strategies. Recommendations include:
Align primary care payments to create a predictable and manageable revenue flow, such as capitation and global payments.
Invest in primary care and promote its principles.
Insist on mental health integration.
Communicate to employees the importance of seeing and selecting a PCP.
Steer employees to provider practices that exemplify advanced primary care.
Incorporate support of advanced primary care in plan administrator contracts.
Principles of Primary Care graphic by Primary Care Collaborative.