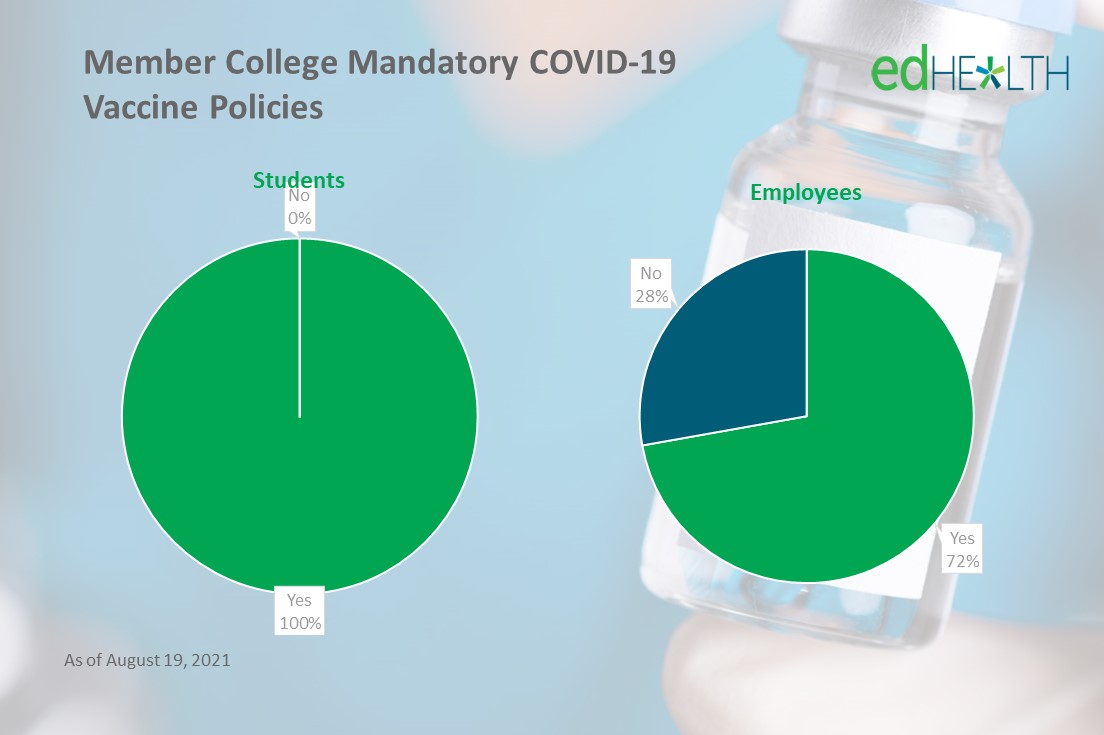 COVID-19 Vaccine Policies Provoke Strong Opinions: 100% of edHEALTH Member Colleges Will Require
Aug 10, 2021
BY CYNTHIA MCGRATH | UPDATED AUGUST 10, 2021
Colleges and universities should require COVID-19 vaccines for all students who plan to attend in-person classes, according to an April 14 New York Times editorial. The authors posit that vaccine mandates are the fastest way to return to normalcy by achieving herd immunity – with 70 percent to 85 percent of the population having some form of immunity. Since certain vaccines are already required for school attendance, the COVID-19 vaccine shouldn't be any different.
However, the decision to mandate COVID-19 vaccines for employees and/or students isn't straightforward. From a legal standpoint, requiring vaccines that are under emergency-use authorization is unclear. This could become a moot issue soon as public-health experts expect full U.S. Food and Drug Administration (FDA) authorization of the Moderna, Pfizer BioNTech, AstraZeneca, and Janssen vaccines in late spring or early summer.
Proponents of mandatory COVID-19 vaccines point to the fact that young adults are a major driver of coronavirus spread. Cases at colleges and universities have increased 58% since 2020 and more than 660,000 cases are attributed to higher education institutions since the start of the pandemic, according to the New York Times. Many students may not get vaccinated if it's voluntary. The sooner students get vaccinated, the faster campus life will return to a somewhat normal environment with masking, social distancing, testing, and some online learning.
On the flip side, mandatory vaccines could create backlash from civil libertarians and anti-vaccine activists who believe vaccines should be a personal choice. Recent research shows that there is a higher rate of vaccine skepticism among some Republicans, religious organizations, and minority groups, and schools aren't looking to disenfranchise students and their families. Certain religious and medical conditions are eligible for exemptions, although the employer can require proof.
Mandatory Student Vaccination More Popular Than for Employees
Rutgers University was the first higher education institution to announce that it would require the COVID-19 vaccine for students enrolled for the fall semester. Many private schools followed. The University of California and California State announced that they will mandate vaccines once the FDA grants full approval. College student health and wellness trade group, the American College Health Association, urged colleges and universities to adopt vaccine requirements for on-campus students and the list of schools mandating vaccines for the fall continues to grow. In May, 72.2% of edHEALTH's colleges and universities had adopted mandatory COVID-19 vaccine policies for students; now fully 100% are requiring.
Requiring vaccines of faculty and staff has been less popular. At the April CUPA-HR webinar "COVID-19 Vaccines for Faculty and Staff: What Higher Ed Employers Need to Know," 2% of participants indicated that their institution would mandate COVID-19 vaccines for employees; 55% said they wouldn't; and 43% hadn't determined their employee policy. In May, only 16.7% of edHEALTH higher education institutions were requiring employees to get vaccinated. This number has jumped to 72.2% as of August 10, 2021, according to the Chronicle of Higher Education.
Spikes in COVID-19 cases can cause financial stress and public relations crises for higher education institutions. High campus vaccination rates can help prevent these concerns. If you are looking to incentivize staff to get vaccinated, the CUPA-HR webinar speakers recommend the following tactics:
Bonus
Gift cards
FAQs
Leadership vaccination stories
Vaccine clinics
Paid Time Off for getting the vaccine
Elimination of pay for COVID-19-related absences