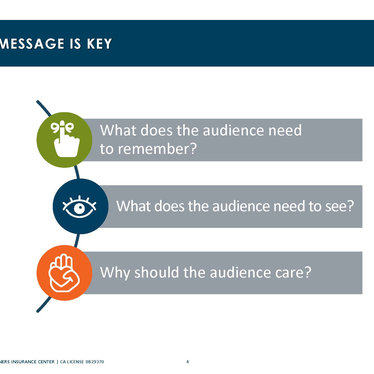 Dec 15, 2020
BY CYNTHIA MCGRATH | DECEMBER 15, 2020
It's a challenging, yet critical, time to increase your employee engagement efforts. The education sector is facing significant challenges due to enrollment drops and the costs of COVID prevention and monitoring. The usual ways of communicating – in-person meetings and quick chats by the water cooler – are no longer possible with many employees working from home. At the same time, many employees are trying to juggle work and family life. Childcare is in short supply, and many school-aged students need help navigating online classes. Social isolation is adversely affecting employees' mental health; anxiety is 51% higher and depression is 65% higher than pre-COVID, according to the National Alliance of Healthcare Purchaser Coalition's October 2020 Mental Health Index.
"Before developing any employee communication, focus on the message," says Bob Simpson, Principal at Mercer. Identify:
What do you want employees to remember?
What do they need to see?
Why should they care?
He recommends putting together a communications strategy template that outlines your goals and objectives; the key messages to support them; and how you will measure whether you met those goals or need to adjust your approach. This document shouldn't be static; you'll want to modify it over time to adjust to data analytic insights and emerging priorities within the organization.
Consider a Blend of Digital and Print Communications
The pandemic has accelerated the move to digital communications. With 81% of Americans now owning a smartphone, and 96% owning a cellphone, according to a recent Pew Research study, opportunities to reach employees digitally have skyrockets. Other benefits of technology-based communications include:
Low cost – no printing, mailing, and postage costs
Measurable – ability to evaluate results and adjust your communications with data insights
Flexibility – it's fast and easy to change or correct
Some of the top digital applications in the employee benefit communications industry: interactive guides; videos; microsites; scheduled emails and text messages; and custom apps. Bob notes that humans don't have long attention spans, and these kinds of communications should help people find what they need within a few steps. For videos, he suggests keeping them less than two minutes in length. Text messages are a great way to send short, engaging messages, but don't bombard employees with texts or they'll become intrusive. Although email is effective, he warns that employees receive so many that it's hard to stand out. "Incorporate email communications as part of a comprehensive strategy," says Bob.
Virtual meetings are a helpful way to communicate with staff – especially during the pandemic – but look for ways to keep employees engaged. Polling activities and trivia questions are interactive and effective. While developing the presentation, make sure you're delivering the information your employees need and are expecting. Apply some levity throughout the presentation, practice in advance, and exude high energy. No one wants to listen to a robot.
Although traditional communications typically cost more and require a longer time to produce and distribute, Bob recommends incorporating targeted print communications into your overall strategy. The tactile nature of print communications and the fact that employees are more likely to remember the message when they see it in print than on a screen is compelling. In general, younger employees are more comfortable with digital communications than older employees, so include a combination to reach your audience. "Think about communications as a blended mix," says Bob. "Every employee is different in the kind of communication they prefer, and you want to use multiple solutions to get the message across."
What to Communicate
Employers should consider a variety of communication topics. Examples include:
Remote work and productivity
Organization updates
Self-care tips
How to safely access care
How benefits work
Financial wellbeing resources
Caregiving tips
When communicating this information, focus on what you want your employees to know, feel, and do. For example, you want employees to know about your company's Employee Assistance Program; you want them to feel that the value of their benefits is impactful to them; and you want them to enroll in benefits by a particular deadline.
If you need to communicate difficult information, Bob recommends that you use an empathetic tone and explain why the organization is making the changes. If you don't have all the details yet, let the employees know when you will get back to them with additional information. Be sure to equip managers with tools and knowledge to support employees during times of change or a crisis.
Circle Back to Your Communications Strategy
Final words of wisdom: consistently analyze the data so that you can adjust your communications strategy as needed. Bob offers tips for measuring results in a recent blog. Most importantly, check your communications messages for clearly outlining what you want your employees to remember, see, and care.
For additional details on how to effectively engage your employees, access edHEALTH's Employee Engagement Thought Leadership Forum.